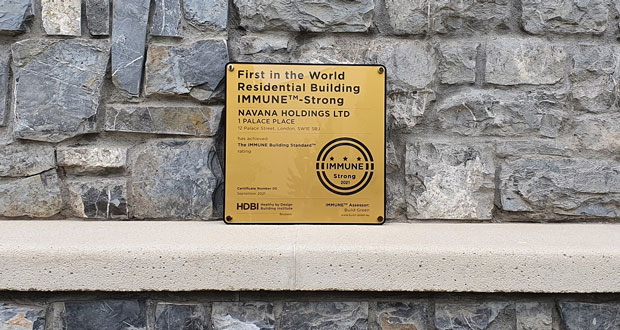 The world's first IMMUNE certified residential building unveiled in London
The world's first residential property to be IMMUNE Building Standard ™ certified was unveiled in London, UK.
One Palace Place in London, a luxury residential building managed by Navana Property Group, has been awarded the IMMUNE ™ – Strong label by the Healthy by Design Building Institute (HDBI), marking the first residential property to receive this distinction.
An initiative of Genesis Property, one of the main members of the European Real Estate Federation and a renowned Class A office developer, the award recognizes the Navana Property Group which has implemented the recommended measures of the IMMUNE ™ standard in the built environment of One Palace Place to create a healthier living environment for residents.
Located in the prestigious district of Westminster, One Palace Place features 35 private apartments with a concierge service for residents 24/7, as well as a 312-seat theater, a 120-seat studio, as well as a restaurant and a bar open to the general public. Obtaining IMMUNE ™ certification reflects the way in which Navana Property Group has successfully implemented a large majority of the 135 measures included in the IMMUNE ™ evaluation rating index.
They understand:
align its policies with IMMUNE ™ standards at the enterprise level, particularly in areas such as business continuity, recovery and well-being
provide additional training to its on-site team and to the dedicated IMMUNE ™ manager
increase the frequency of cleaning high contact and high traffic areas such as entry and exit routes, entrance, elevators, stairwells, doors and handles with supportive signage
improve sanitation regimes in the building for its staff, residents, visitors and contractors to protect them
supply of PPE equipment
the installation of eight automatic hand sanitizers in the main entrance and elevator lobbies on each floor of the building.
Build Green, an independent certified building appraiser and contributor to the development of the IMMUNE Building Standard ™, performs the appraisal and recommends a property to become IMMUNE ™ – certified with one of three labels: Strong (3 stars), Powerful (4 stars) or Resilient (5 stars).
The IMMUNE Building Standard ™ was developed in 2020 to combat the effects of the Covid-19 pandemic and to design healthy indoor spaces, including offices, industrial buildings and, from this year, residential buildings. By covering residential buildings, the standard marks a major new stage of expansion, strengthening its contribution to the resilience of a wide range of built environments against health threats today and beyond.
The IMMUNE Building Standard ™ is based on a practical investment in a Healthy System by Design (HbDS), which integrates a network of specialized sensors that measure indoor environment parameters such as air, humidity, temperature. or CO2 levels. Building performance data is collected in real time, allowing the building operator to check and adjust the building condition to a healthy performance level to provide occupants with the space and confidence necessary for a healthy life experience. Each IMMUNE ™ certified building incorporates advanced technologies, specialized equipment and dedicated staff, an IMMUNE ™ steward, to manage the building's operations and health parameters, as recommended in the standard.
Mark Fitzgerald, Managing Director of Navana Property Group, commented: "Last year people probably spent more time at home than ever before, but while we have seen changes in the way offices, transportation hubs and stores are managed to keep people safe. people, there has been little discussion of what should happen in a multi-residential. setting. People want reassurance, especially as we are learning to live with Covid-19 and prepare for possible future epidemics. It is not about creating sterile spaces, but about making judicious changes in design and management. The IMMUNE ™ certification shows our commitment as a professional property and asset manager to doing everything possible to keep our clients healthy and healthy.
Webinar: We're Hiring Now! Overcome the challenges of recruiting for flexible services.
Recruitment for soft FM services is proving more difficult in the post-Covid world of work. So what can FMs do to overcome this?
Sara Bean, editor-in-chief of FMJ, and Jess Pritchard, Head of Corporate Sector at Moneypenny are joined by the panelists:
Mark Whittaker, Managing Director, Thomson FM and President of IWFM
Ian Wright, Head of Software Services, University College London
David Bauld, Group Facilities Manager, Paradigm Housing
Nicola Lathbury, Managing Director, Hexagon FM
Together they will discuss the current skills shortage in a number of areas of FM, ways to keep staff engaged in their work through a brilliant culture, and how outsourcing could be a solution to the problem of FM. recruitment. Secure your place now for Thursday November 25 at 11 a.m..
To register click here.