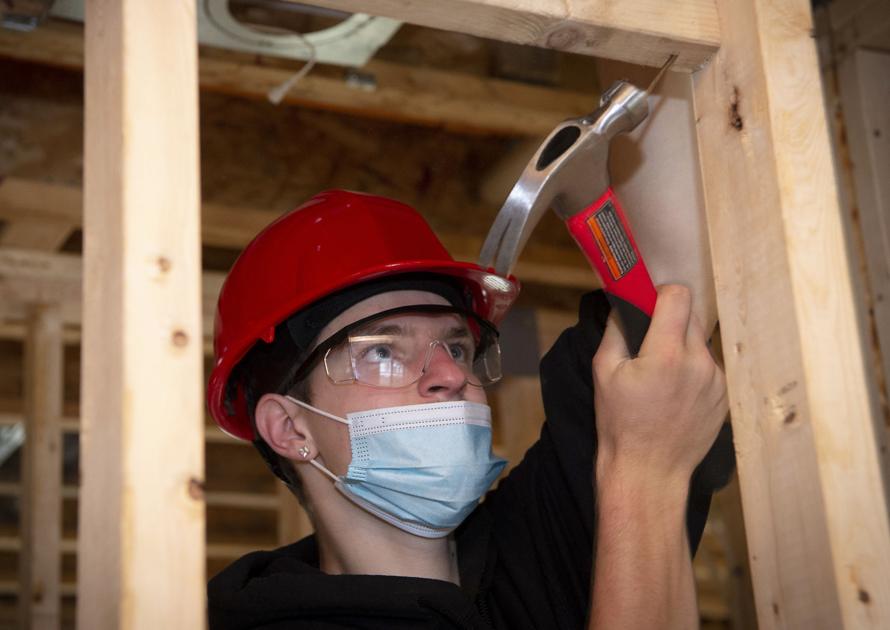 Student House in Walkersville near the finish line | Education
As of November 2019, Diego Ramirez was in second grade and the Fulton Avenue lot in Walkersville was empty.
Now Ramirez is a senior, preparing to graduate from Tuscarora High School and take construction management classes at Frederick Community College. And on that vacant lot, there is now an 1,800 square foot house that is almost finished.
Ramirez and other students at the Career and Technology Center helped lay the foundation for the structure, which represents the 33rd house built by students in the program. After years of hard work and a period of months of pandemic-induced delays, staff expect the house to be ready for occupancy by spring.
"I'm really proud of what I've been able to do with my classmates," Ramirez said on Wednesday, leaning against an unfinished wall and raising his voice above a cacophony of slamming hammers and buzzing saws.
Frederick County Public Schools have supported student house projects since 1978. Jim Thuman, a carpentry instructor at the CLC, has supervised work on the four most recent.
The constructions give students of carpentry, electrical, plumbing, HVAC and landscaping the chance to gain hands-on experience, Thuman said. It is much more valuable than a lecture.
Typically, Thuman added, labor laws prohibit construction students from gaining experience on a job site before the age of 18.
"It takes experience. It is the most important thing to get a job. It doesn't matter what level of education you have, "Thuman said. "When they show up for a job, they can say, 'Yes, I set up farms' or' I built the house from scratch. "
On Wednesday, Thuman joked with his students showing them how to apply a coating to the exterior of the house. He showed marks printed on the walls that indicated where each of their nails should go.
"This industry has made everything fool proof," he said. "Or tried."
Most school days, students are transported by bus from CTC – located right next to the FAC campus – to the construction site in Walkersville. Instructors choose terrains that are not too far from the city, as students only have a few hours a day to get to the site, work, and return.
When the house is sold, Thuman said, he will use the profits to start looking for new vacant land for a future student project. But as Frederick develops and grows, he said, the empty spaces become harder and harder to find.
"How many lots are left within a 10-15 minute radius of FCC?" " He asked. "Not much – if there is. So in the future we are looking, what are we going to do? "
CTC has secured lots for the next two projects, Thuman said. Both are located on 13th Street in Frederick, near Gov High School. Thomas Johnson. But after that, things are in the air.
Unlike Ramirez, who has been on the site since the groundbreaking first, Oakdale High School students Asher Payne and Peter Goggin are new to the project. They are both first-year carpentry students, and they said driving home cemented their desire to pursue commercial work.
"It's real to be here," said Payne, a sophomore. "It's not like the work of the book."
When complete, the single-family home – which must go through the same inspection process as any other home – will have a master bedroom on the first floor with a walk-in closet and bathroom. Goggin and Payne worked on installing a shelf debut in the main closet on Wednesday.
Later this week, Thuman said, the students will begin putting up the walls for the two-car detached garage.
For about six months in 2020, the house remained intact, covered with tarpaulins. When the coronavirus pandemic hit, students had to stop their work.
Eventually, Ramirez and some of his classmates organized "Saturday work trips" to the site. They worked from 9 a.m. to 4 p.m. in small groups to ensure social distancing.
"That's what really drove this house," Ramirez said.
In addition to the value of hands-on experience, Thuman said, home projects help students understand the tangible results of their work.
"They can actually come in 30 years," he said, "and the house will still be there."