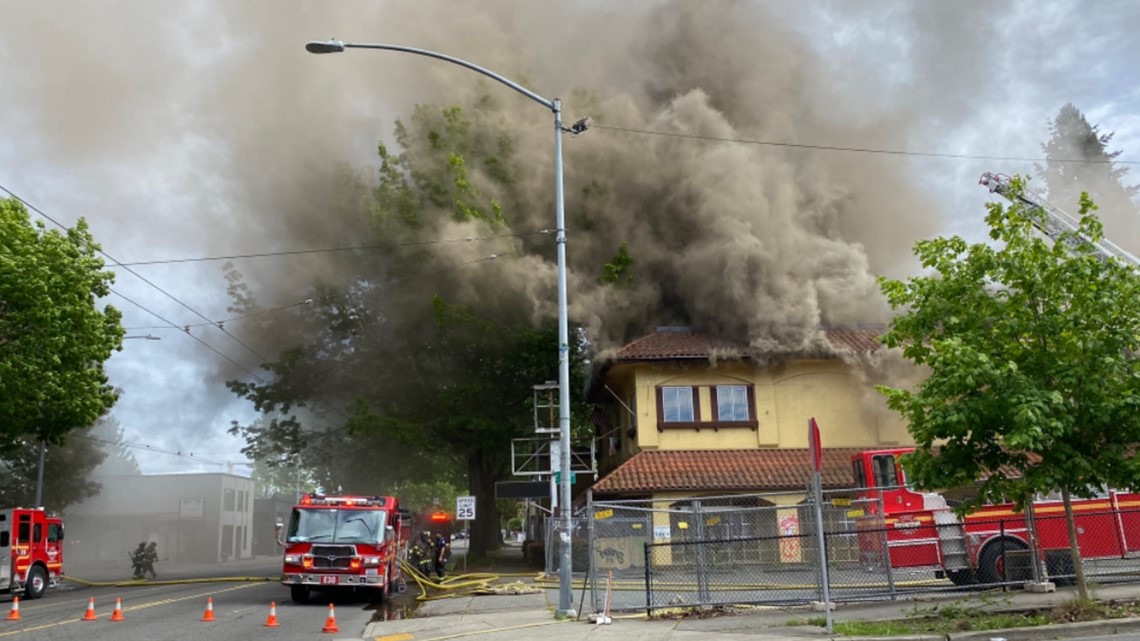 Seattle crews battle fire at vacant Borracchini Bakery building
The fire is under control, however, crews will remain on the scene overnight to extinguish it completely.
SEATTLE – The Seattle Fire Department (SFD) is battling a fire on Rainier Avenue South and South Walker Street.
The fire started in the vacant building of the Borracchini bakery, which closed after 100 years in business in 2021. Flames could be seen breaking through the roof of the building in SkyKing video. A wall of the building partially collapsed.
The fire is currently under control, however, a few units will remain at the scene overnight to extinguish it completely.
A firefighter was slightly injured while working at the scene. They were taken to Harborview Medical Center for further care, according to firefighters.
People who live or work near the blaze are being asked to close their windows and doors due to the heavy smoke billowing from the building, the SFD said.
Crews are in a "defensive position" preparing to pour water on the fire from outside the building, according to SDF.
The SFD first tweeted about the fire around 3.45pm on Friday.
The cause of the fire is under investigation.
Paul Purcell, who lives nearby, said the fire at Borracchini's building is another blow to the neighborhood.
"It is a sad loss for the neighborhood. A bigger loss was losing the business during the pandemic," Purcell said. "But you can see what is happening in this area, apartments are going up and small buildings are collapsing.
Borracchini's Bakery was a Seattle institution before it had to close in 2021, citing a drop in demand for the cakes.
"It was a real landmark. I've been on the hill for 47 years, taking my kids there for birthday parties and buying birthday cakes," Purcell said. "It's a real loss for the neighborhood.