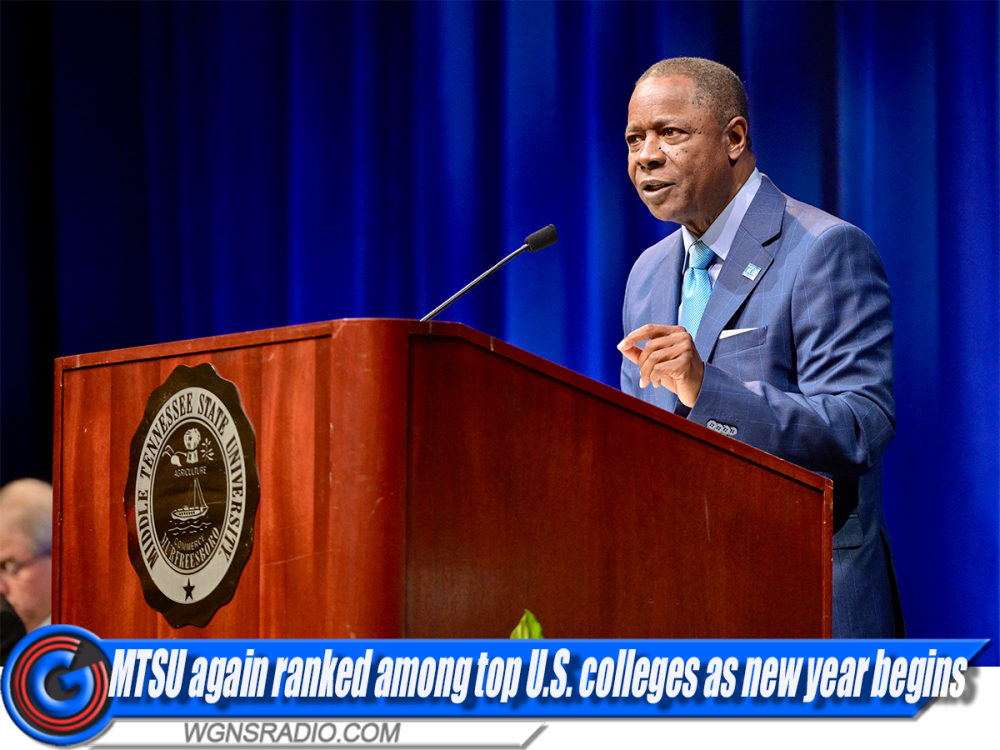 MTSU once again ranked among America's top colleges at the start of the new year
Photo: Sidney A. McPhee, President of MTSU
MURREFREESBORO, Tennessee — Citing MTSU's fourth consecutive ranking as one of the top colleges in the nation, Middle Tennessee State University President Sidney A. McPhee praised the "remarkable" faculty and staff during his speech. on the state of the university on Thursday for continuing to raise the profile of the university. and attract top academics to pursue their academic studies here.
"We are no longer a best-kept secret, as your hard work and tremendous results now regularly capture headlines and attention from across Tennessee, the country and, often, the world," McPhee told the hundreds of attendees during his annual speech at the traditional fall faculty meeting inside the Tucker Theater.
"We are starting this year stronger…and are now back in full swing."
MTSU returned to The Princeton Review's annual list of the nation's best colleges for a fourth straight year and remains the only locally-governed institution in Tennessee recognized by the publication, earning its spot for the first time in 2019.
Only five higher education entities in the state – two public and three private – were included in the recently released 31st edition of "The Best 388 Colleges."
Kicking off the 2022-23 academic year which officially begins Monday, August 22 with the start of classes, McPhee used his 45-minute speech on Thursday to highlight a number of significant achievements over the past few years, including the elevation from the university to the R2 doctoral university designation "high research activity" by the Carnegie Classification of Institutions of Higher Education.
He also noted the launch of new academic programs, such as a bachelor's degree in public writing and rhetoric, the first of its kind in the state; Masters in Data Science and Supply Chain Management; and a bachelor's degree in cybersecurity which is being studied.
"These programs further align with our strategy of providing educational experiences that match the skills Tennessee businesses need today and in the future," said McPhee, the 10th president of the university entering its 22nd year as a leader.
McPhee noted the ongoing challenges facing higher education, but encouraged the hundreds of faculty in attendance to remember the importance of their work.
"We find ourselves affected by economic inflation and a controversial political environment. At all times, but especially in times like these, our mission to promote education, reasoned debate and civility is more important than ever," he said.
"Never be deterred from the importance of your work. Without exaggeration, what we do here transforms lives for the better.
As part of Thursday's meeting, outstanding faculty were honored with special awards, including the Career Achievement Award, the most prestigious award given to a faculty member. University Provost Mark Byrnes and MTSU Foundation President Ronald Roberts joined McPhee in presenting this year's award to Thomas Brinthaupt, Professor of Psychology and Director of Faculty Development for the Center for MTSU's learning, teaching and innovative technologies.
Other notable updates:
A new 54,000 square foot, $40.1 million School of Concrete and Construction Management building, with a ribbon-cutting ceremony scheduled for mid-October.
A new 89,000 square foot, $54.9 million Applied Engineering Building that will house the Engineering Technology and Mechatronics Engineering programs, slated to begin construction this academic year and s complete in about three years.
A $62.2 million state-funded project, which includes more than $4.5 million in university matching funds, to move the aerospace program from Murfreesboro Airport to Shelbyville to accommodate growth explosion of the professional pilot program.
The relocation project, which will take approximately three to five years, includes the construction of an 83,000-square-foot academic building and three hangar structures to serve as laboratory and support spaces in an "aviation academy of world class".
A record fundraising year in which the university received more than $17.2 million in contributions, a 50% increase over the previous year.
In Athletics, the renovations of the "Glass House" Murphy Center, which celebrates its 50th anniversary this year; the continued progress of MTSU Athletics' $100 million "Build Blue" three-phase campaign to upgrade athletic facilities; and groundbreaking later this fall to expand outdoor tennis facilities on campus.
More WGNS news headlines:
1.) Rent prices are high and rising throughout Central Tennessee
2.) New Director of Transportation for the Rutherford Co. School System.
3.) Australian Born Company will create over 500 new jobs in neighboring Lebanon, TN
4.) You may have unclaimed money waiting for you in Tennessee
5.) Missing Murfreesboro Woman Found Dead in Wilson County
6.) Suspect arrested in 21-year-old drug-related death
7.) UPDATE: 5-Year-Old Shot and Accidentally Killed in Smyrna, TN