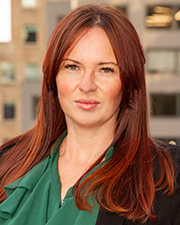 Leslie Cook, GTL Construction: NYREJ
Name: Leslie Cook
Title: Manager of Strategic Growth
Company name: GTL Construction
Real estate associations or organizations of which you are currently a member:
Women in Housing and Finance
New York Architectural League
What did you want to be when you grew up?
I wanted to be in real estate or a lawyer.
In the past year, which project, transaction or achievement are you most proud of?
I was in the field during COVID-19 at an assisted living project (Sunrise Senior Living) in New York City. Adapting to unfamiliar changes while dealing with typical construction challenges has been a great achievement. I am grateful to the amazing team at Sunrise Senior Living, Owner Representative of PWC, Moseley Architects, Cahill Strategies, Bohler Engineering and GPI for putting all the heart it took to make the project or a success during the pandemic.
What trends will dominate your industry in the coming months?
Charter / life science schools are huge right now. I also believe that affordable housing on the private investment side will finally explode. This has been a long time coming and if completed with the proper structure it could have such a positive impact socially, environmentally and financially.
Who was / is your mentor and how has he influenced / helped you in your career?
I am so grateful to have so many mentors. My father was my greatest mentor. He started out as a carpenter and built each house with passion and heart. It was an art for him, and it fueled my interest in the industry from my first visit to the site as a baby.
What brought you to your current profession?
I grew up in the construction / real estate industry and have been passionate about it from a young age. I chose to go to business administration school to learn basic practices that I could transfer to any field until I was sure what I wanted to do in the long run. After that I continued my education in all aspects of a construction management business (construction management program, project management, SHRM, real estate investment programs).
How do you contribute to your community or profession?
I contribute by thinking outside the box. I have empathy and understanding of the people involved. It is not a transactional business and I take a different approach understanding the partnership between all parties. I have been in the field on construction sites for over 10 years and in the office for an additional five years. I understand what it takes to be successful in a project and in this business because I have absorbed advice from some of the best suited industries to put my boots on the field and get my hands dirty to get things done. I learn from my mistakes and supervise those that come after me.
What books or social media influencers would you recommend to other women?
#Boss Babe, 7 Habits of Highly Effective People, Delivering Happiness, 5am Club – I also like to take inspiration from @trades_women_of_ig online (there are some amazingly talented inspirational women posted all the time on this Instagram.