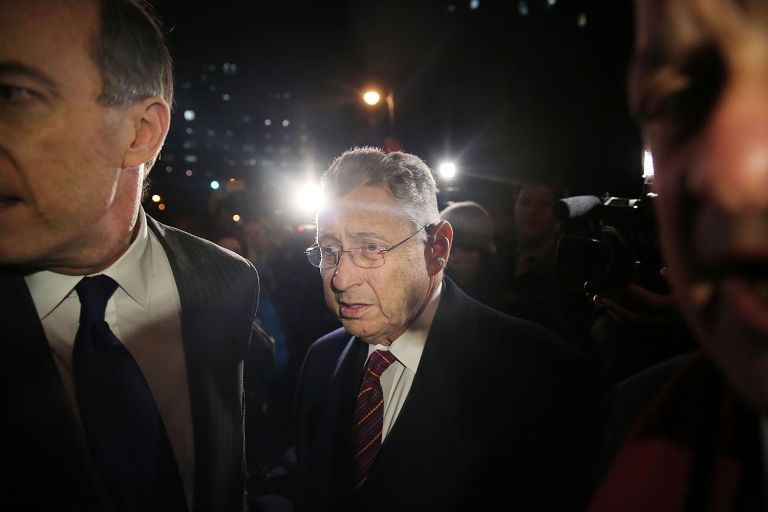 Former Assembly Speaker Sheldon Silver dies in prison at 77
Disgraced New York Assembly Speaker Sheldon Silver died in prison at age 77, sources close to the family told NY1 on Monday afternoon.
Silver was serving a six-and-a-half-year prison sentence after being convicted of receiving bribes he tried to pass off to authorities for legal fees. He resigned from his speaking role in 2015 after an indictment and has been imprisoned since August 2020.
Sources close to the family say former New York State Assembly Speaker Sheldon Silver has died at age 77.

— Zack Fink (@ZackFinkNews) January 24, 2022
He was elected in 1976 to represent Lower Manhattan in the State Assembly and rose to the rank of Speaker in 1994, becoming arguably the most powerful man in Albany. He was a figure that tenant advocates and property developers turned to when they needed something done, and he played a vital role in maintaining what later became Essex Crossing as empty as he tried to realize his vision of the site.
However, his Teflon status ended in 2015 when federal prosecutors threw the book at him for receiving a salary from a law firm that demanded special discounts in New York real estate. These were not disclosed on its annual financial statement.
After being found guilty of seven federal charges, Silver attempted to appeal his case after the Supreme Court's decision in a similar case involving Virginia Gov. Bob McDonald. While his original conviction was overturned, a second trial by federal prosecutors got another conviction in May 2018. He remained on bail while he attempted to appeal the second decision, but eventually began his prison sentence in August 2020.
Despite his fall from grace, some New York lawmakers have reacted with praise for Silver's record in fighting for issues in New York such as Democratic Assemblymember Kevin Cahill representing Kingston, NY
"Sheldon Silver, a proud product of his lower New York neighborhood, never forgot his origins and never allowed his love for the communities he represented to be compromised," Cahill said. "He has helped hospitals, community centers, childcare, tourism expansion and helped local direct care workers earn a dignified wage, to name a few. He gave voice to constituencies across our great state that otherwise might not be heard. My deepest condolences to his large, close-knit family and friends, many of whom have been lifelong faithful and today mourn the loss, in Shelly's words, of a true mensch.
This is a developing story, check back with Commercial Observer for updates.
Marc Hallum can be contacted at [email protected].