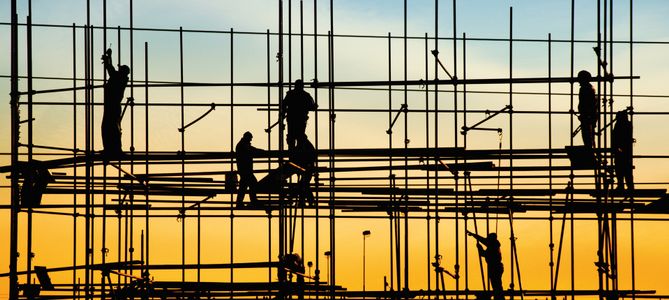 Clark Contractors hires CFO and two additional managers
Clark Contractors has hired Chris Shepard as Chief Financial Officer. Additionally, the company added Travis Henry as director of security and Daniel Hunt as senior project manager.
Shepard will manage the financial actions of Clark Contractors, including financial reporting and analysis, strategic planning and risk management.
"We are thrilled to have someone of Chris' caliber join our team. His experience in accounting and operations will be a tremendous asset to Clark as we continue to grow," said William Clark, CEO of Clark Contractors. "Chris lives our seven core values ​​in his personal life, and I look forward to seeing the benefits of the contributions he will make to the business."
Prior to joining Clark Contractors, Shepard was Operations Manager at Alotian Golf Club. He also worked at Hudson, Cisne & Co. and has 12 years of experience in the financial industry, including as an accountant, controller and human resources manager.
Resources. He holds a bachelor's degree in accounting from Ouachita Baptist University and is a certified public accountant.
Henry will develop and promote a safety culture that will keep pace with Clark
Contractor operations, including training team members, enforcing policies and revising programs as the business continues to grow.
He has spent the past six years as a supervising industrial hygienist for Red River Army Depot in Texarkana, Texas. Prior to that, he was a manufactured food inspector for the Arkansas Department of Health and a medical technologist for the Arkansas Department of Human Services. Henry also worked for several years as a HAZMAT emergency responder for the Center for Toxicology and Emergency Response.
Henry holds a BS and MS in Biology from the University of Central Arkansas.
As Senior Project Manager in Clark Contractors' office in Rogers, Arkansas, Hunt will be responsible for project budgeting, cost control, bid presentation, preparation of Guaranteed Maximum Price (GMP) , contracts with subcontractors and material suppliers and contract administration.
Prior to joining Clark, Hunt worked for CDI Contractors. He has 17 years of experience in the construction industry and a Bachelor of Science in Construction Management from the University of Arkansas Little Rock.
Clark Contractors is a full service construction manager and general contractor headquartered in Little Rock with additional offices in Rogers and Southlake, TX.