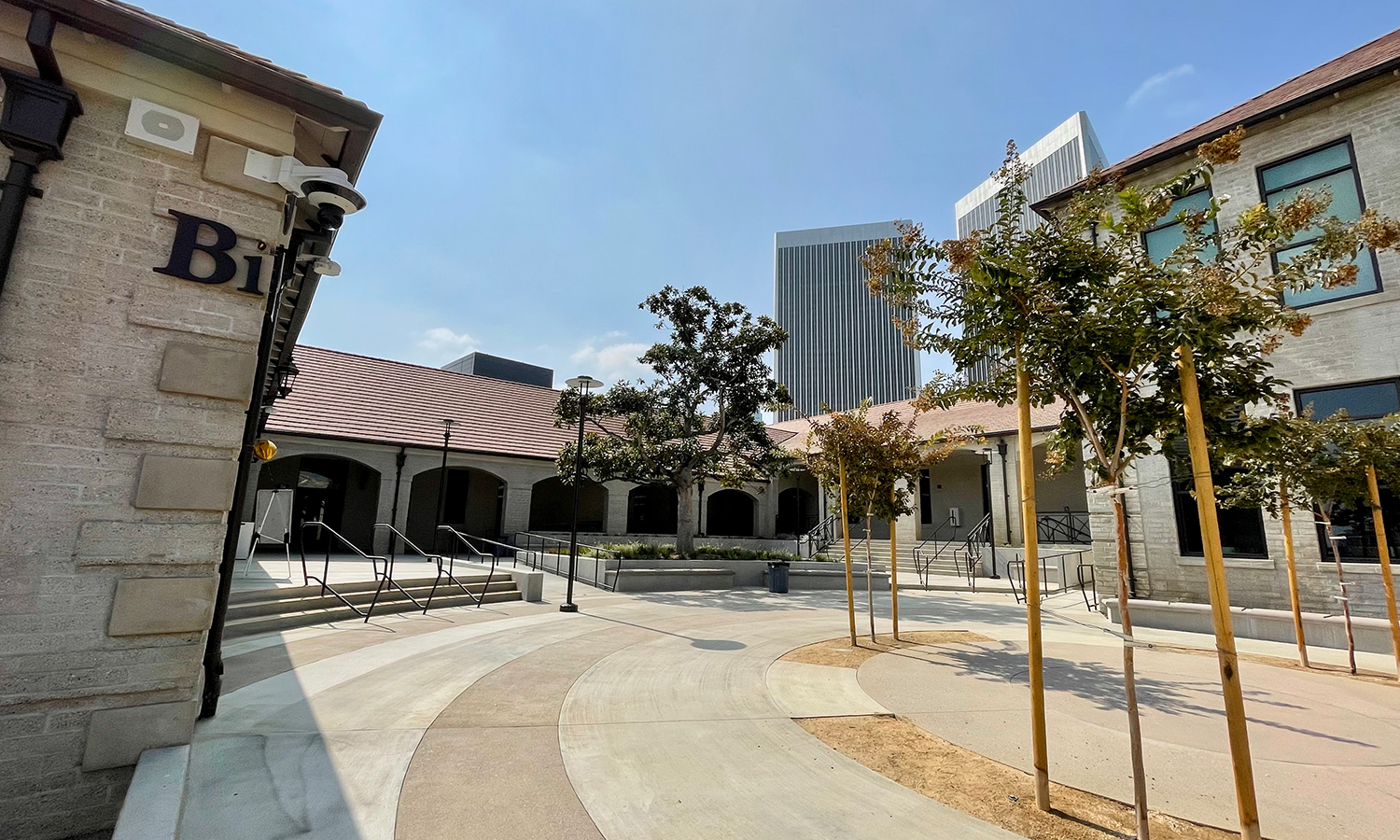 BHUSD Board Takes Action for 'Course Correct' Bond Program – Beverly Hills Courier – Beverly Hills Courier
BY Samuel Braslow March 24, 2022
The Beverly Hills Unified School District (BHUSD) school board filed a request for a new district bond program manager in a 4-1 vote. The move marks the latest chapter in a saga that has seen the public and board members mistrust the program's current manager, Team Concept Development Services (TCDS), led by owner Don Blake.
"At best, I found our process, our systems and the information we currently receive regarding the status of our construction program to be opaque," ​​wrote Gabriel Halimi, a member of the board of directors, who was absent at the meeting but explained his vote in a detailed letter. . "Just in the past few months, we found ourselves surprised, confused and frustrated. And given that we went over budget and delayed delivery, there are questions that need clear answers.
In 2008, Beverly Hills voters passed Measure E, allowing BHUSD to issue $334 million in bonds. Another bond measure, the BH measure, was passed in 2018, authorizing the district to issue an additional $385 million in bonds. Together, the bonds provide funding for retrofits, seismic retrofits, new buildings and security upgrades.
But since 2008 and 2018, many of the improvements promised by Measures E and BH have not materialized on time or within budget, with some projects being dropped from plans altogether. During a study session in October, Blake reported to the board that the program was $129 million short, although TCDS recently released a revised figure of $89 million.
The delays and cost overruns have caused frustration among Beverly Hills ratepayers, especially those whose children attend BHUSD schools.
"Throughout my children's elementary schooling, they lacked clean bathrooms, adequate classrooms, a presentable cafeteria, and they did not take advantage of safe playgrounds or even an auditorium to graduate," one parent, Daphna Hollander, said in a public comment. "We trusted these board members and others, and unfortunately we feel let down and lied to. My daughter is now in high school.
Administrator frustration has also increased since the arrival of TCDS in 2017, with members complaining of a lack of transparency from Blake and TCDS.
"Since joining this board, and before that, serving on the [Citizens' Bond Oversight Committee]I believe we have a problem with transparency and accountability when it comes to our bond building program," said board chair Mary Wells.
During TCDS' tenure, Wells said it has been "very difficult" to receive information from the bond manager "so that I can have the sufficient amount of information that I need as a member. of the board of directors to make an informed decision".
Trustee Rachelle Marcus expressed concern about TCDS' monthly payroll costs, which she said "were $268,000 for the month of February." At this level, the company would charge the district over $3.2 million for a year of work.
"I find that amount incredible," Marcus said.
Marcus and others also raised concerns about the process by which TCDS received its contract with the district, saying the five-year contract did not follow the typical application process.
"Five years ago," Marcus said, "there was no [Request for Proposals (RFP)] at this moment. The deal was negotiated without competing offers.
Board Vice Chairman Noah Margo pushed back on that question, saying a request was made in 2016. However, Margo acknowledged in follow-up questions from The Courier that TCDS had not submitted a proposal. in 2016. Additionally, the request issued in 2016 was for construction management services, not bond management services, provided by TCDS.
The school board already voted Feb. 1 to file for a new bond manager, with the TCDS contract set to expire July 17. The March 22 vote approved the wording and details of this request. The two votes were evenly split, with Margo casting the only dissenting votes.
The request gives interested parties until May 23 to submit a proposal. It calls for submissions from companies with "extensive experience building public school facilities in California," as well as other relevant qualifications. It does not indicate when the board will make a final selection.
Although TCDS is not prevented from submitting its own proposal, Blake must first renew its quality contractor license.
Halimi called for a restructuring of the relationship between the board and the bond manager, whoever it is. In its current structure, the bond manager reports directly to the board of directors, which is responsible for interpreting the reports and holding the bond manager accountable. But Halimi, speaking to his colleagues in the letter, acknowledged his own limitations in carrying out this task.
"Like all of you, I am a part-time volunteer and not a full-time professional board member. It is not and should not be the responsibility of us as board members to be experts in construction management, forensic accounting, property inspection and knowing exactly what reports to request and what data to consult, then look for the information that we don't get," he said. wrote.
Reports should instead go through intermediaries with the background and expertise to interpret and explain the data to both the board and the public, he said.
Margo, the only current director on the board when Blake took over as bond manager in 2017, has been a passionate defender of the bond program and Blake disagreed with the rest of the board. Margo described the program as "unprecedented and recognized by all government agencies involved in our projects".
"It's a World Series Super Bowl champion team that we're about to get rid of," he said.
An audit of the district's bond management program covering the fiscal year 2019-2020 praised BHUSD and TCDS as "highly experienced development professionals with a strong track record of successfully completed projects."
Margo said architects, construction companies and contractors working on the construction projects have all applauded "the success of the program". Even board members had sent Blake kind words as recently as December, with then-president Rachelle Marcus saying she "continues to be amazed by the complications and the incredible amount of work and the fact that it is happening is incredible".
"The decision that is about to be made by this governing body is perhaps the most dangerous and impactful decision I have ever been involved in," Margo said, a mistake he attributed to a "shifting narrative combined with a lack of understanding". "
Many of the arguments made by Margo were echoed by a Change.org petition circulating just before the vote. Although it only attracted a few dozen signatures, the petition, authored by Deena Wachtel, called the vote "carrying[ing] hallmarks of a false flag initiative" and landed in every board member's inbox. It was shared on social media by Laura Margo, wife of Noah Margo and commissioner at the Human Relations Commission.
"Have you decided they are just too expensive?" asks the petition. "Have you made efforts to discuss your concerns with TCDS? Going through a tender and award process will definitely increase the costs and possibly the duration of construction efforts, so cost is probably not your primary concern.
Former board vice-chairman Tristen Walker-Shuman, who signed the petition, likened the cost overruns to gas prices.
"Let's say you own a business that relies heavily on driving and you allow $4.50 a gallon for gas and all of a sudden the price per gallon goes up to $6," Walker-Shuman wrote. "Does that mean you planned poorly and went over budget? No, it means the price of the commodity has changed, so you need to make adjustments like passing the price on to the consumer.
Walker-Shuman also pointed to Beverly Hills High School's recent Buildings B1 and B2 competition, which arrived on time and under budget as proof of TCDS' success.
"Trying to say this means you went over budget or misplanned or mismanaged is absolute gaslighting," wrote Walker-Shuman, who resigned from the board in September following allegations that which she allegedly misrepresented her residency status. "This push to replace TCDS and issue a tender is nothing more than propaganda."
In his letter, Halimi acknowledged some of the unforeseen challenges that TCDS faces in executing the bond measures, namely "previously unknown oil well issues, COVID-19, escalating inflation and the fact that we are in the worst supply chain crisis of our lifetime."
But Halimi, like other board members, could not accept these explanations at face value without clear data to back them up.
"In theory, we could have the best-run bond and construction program in the country, but [with] the data I have today, I couldn't draw any conclusions," he said. "But now, with the imminent expiry of the five-year TCDS contract, we have the opportunity to correct our trajectory and I think we have to take it."